Hey everyone,
I've donated a VERY SPECIAL item to help benefit tornado disaster relief in Alabama! This is one for All 4 Alabama and the proceeds of the auction will go to helping some of the smaller communities devastated by the April storms.
Now, whenever I've contributed items for auctions or contests in the past, I've opted for a signed copy of Freefall for the winners. (Although, in December, I also knitted Harry Potter-inspired scarves.) This time, I decided to do something different.

Okay, it's still a signed and personalized copy of Freefall, but this time it is SUPER-PERSONAL and totally one of a kind!

I am going through a copy of the book and writing notes on EVERY SINGLE PAGE. I'm revealing everything I can think of to reveal to you about the inspiration for scenes, the stories behind the characters, things that changed from first draft to finished book, quotes and occurances that came from my real life, and much, much, much, much more!
I've already put four hours into this project and I'm only on page 90! Yes, I have a lot to go, but I'm having so much fun doing it. So, I'm hoping, hoping, hoping that someone out there who might like me, but who really likes Freefall, will be interested in bidding on this book! :-)
Here's a sneak peak of a somewhat scandalous selection with behind-the-scenes info scribbled in by me: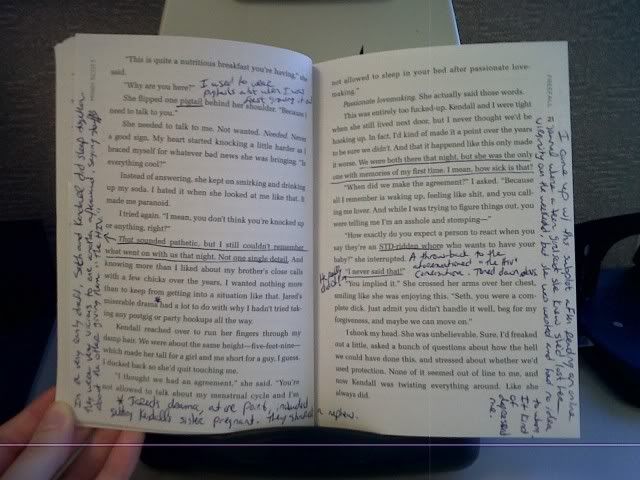 So that's the stuff! If you are interested in bidding (and I really hope you are!), please go here! Thank you so much! ♥