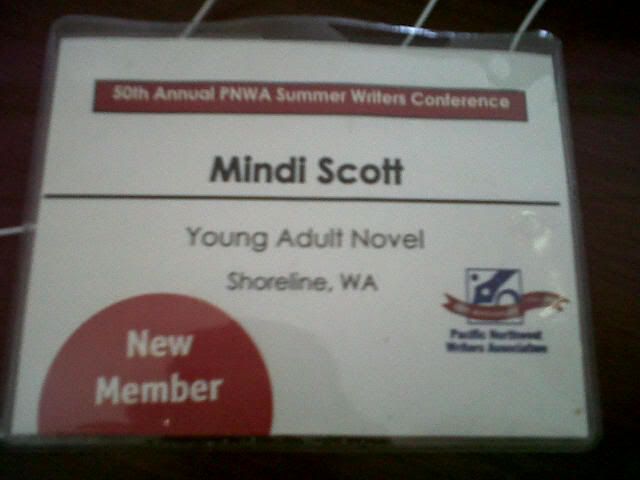 The first writers conference I ever attended was the Pacific Northwest Writers Association (PNWA) during the summer of 2005.
This was my nametag. ---------------------------------------------------------------------------->
I also wore cute outfits from Ann Taylor Loft, the agent at my pitch session requested the partial of my manuscript FADED AS MY JEANS (which caused me run into the bathroom afterward to cry with joy), and one of my friends from my writing class placed in a contest at the awards banquet. Good times all around, I say!
But at the time, even better than all of those things was the fact that at one of the dinners, Charles R. Cross sat next to me. Charles Cross! The guy who wrote the best Kurt Cobain biography EVER! Yeah. He sat. By me. No, I'm not messing y
ou.
Okay, so you might be wondering what the fuss was about. I mean, I wasn't, like, a devoted Charles Cross fan or anything. But the deal is that he was a real author with a real book out that I'D ACTUALLY READ and he talked to a lowlife n00b writer me like I was worthy or something!
In the days and weeks following the conference, meeting Charles was the thing I talked about the most. Sometimes, I was really hilarious and said things like, "Oh, that totally reminds me of the time when Charles R. Cross, the New York Times best selling author of HEAVIER THAN HEAVEN, and I were talking at dinner at that writer's conference."
It's possible that some of my friends and family might have rolled their eyes and/or growled at me a few times. But what a lot of fun it was!
Thanks, Charles (if you Google yourself), for being cool. :-)