Normal 0
MicrosoftInternetExplorer4
/* Style Definitions */ table.MsoNormalTable {mso-style-name:"Table Normal"; mso-tstyle-rowband-size:0; mso-tstyle-colband-size:0; mso-style-noshow:yes; mso-style-parent:""; mso-padding-alt:0in 5.4pt 0in 5.4pt; mso-para-margin:0in; mso-para-margin-bottom:.0001pt; mso-pagination:widow-orphan; font-size:10.0pt; font-family:"Times New Roman";}
Jen Nadol is the author of The Mark, a YA novel released by Bloomsbury on January 19, 2010.
Cassandra Renfield has always seen the mark—a glow around certain people reminiscent of candlelight. But the one time she mentioned it, it was dismissed as a trick of the light. Until the day she watches a man awash in the mark die. After searching her memories, Cassie realizes she can see a person's imminent death. Not how or where, only when: today.
Armed with a vague understanding of the light, Cassie begins to explore her "gift," seeking those marked for death and probing the line between decision and destiny. Though she's careful to hide her secret—even from her new philosophy-obsessed boyfriend—with each impending death comes the temptation to test fate. But so many questions remain. How does the mark work? Why is she the only one who sees it? And finally, the most important of all: If you know today is someone's last, should you tell them?
THE MAGIC 8
Where authors answer eight of life's most important (and magical) questions.
Uh huh.
1. Mindi Scott: At age eight, what did you want to be when you grew up? And at age eighteen? And while you're at it, what about at age twenty-eight?
Jen Nadol: 8: Veterinarian
18: Writer
28: Anything-but-working-in-Corporate-America
2. MS: Which Breakfast-Club-style label would have best fit your teenage self? (Clever Examples: The Bad Ass, The Athlete, The Hottie, The Dork, The Genius, The Psycho, The Social Butterfly, The Band Geek, The Drama Queen/King, The I Wish I Were a Vampire, The Entirely Something Else.)

JN: The Bad Ass Genius who Wished She Was a Vampire. Well, that's who I wanted to be. I think I was really The Dork.
3. MS: What are some of your superstitions and/or phobias?

JN: I don't have any superstitions. I'm afraid of a lot of things - flying, public speaking, something happening to my kids – but in a mild-anxiety vs. all-out-phobia sort of way.
4. MS: Without giving away too much from your book, which character or scene are you the most pleased about having created, and why?
JN: Probably Cassie, the protagonist. The Mark is pretty character driven and I think she's got enough layers and is authentic enough to carry the book (at least I hope she is).
5. MS: Was there any certain music that inspired you while you were writing this book, or is there a song that could serve as your protagonist's theme song?
JN: Nothing really inspired me – I never listen to music while I work. For her theme song, it'd have to be the obvious: If Today Was Your Last Day by Nickelback. The song is kinda "meh", but it fits.
6. MS: What's up next for you as a writer?
JN: My second novel is completed and on submission and I have two others in early stages, one paranormal, one dystopian, both YA.
7. MS: And, now, the most important question of all: Beatles or Elvis? Please support your answer. ;-)

JN: Beatles. I like their music and Elvis' about the same, but Elvis is kind of skanky.
8. MS: Okay, your turn. Do you have a question you'd like me to ask my Magic 8-Ball on your behalf? (I'm telling you, this thing is scarily accurate! Well, except for when it's lying.)

JN: Will 2010 be as good a year as 2009?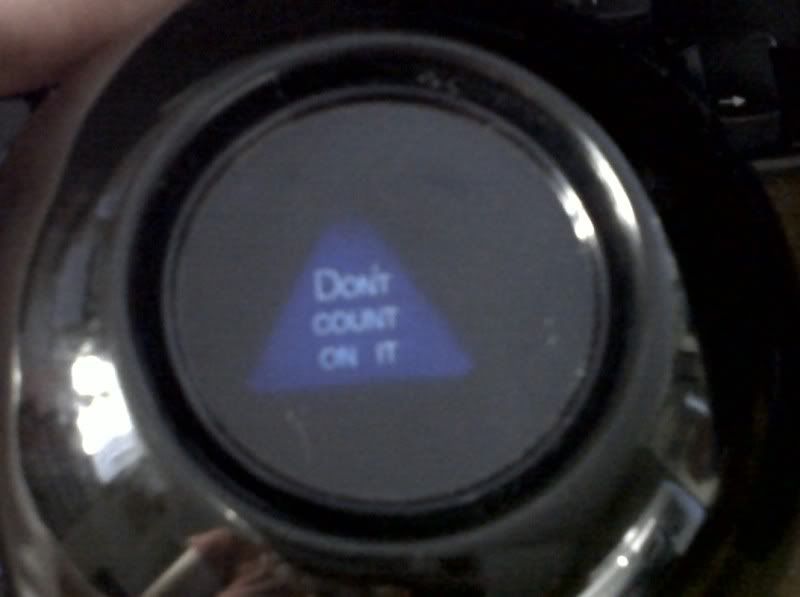 MS: The Magic 8-Ball is either being cranky or 2009 was just TOO GOOD to be topped. Either way, I'm putting my fingers in my ears and saying, "La la la!" So there. Thank you so much, Jen!

JN: Thanks, Mindi, and good luck on your debut – can't wait to read it!

For more information about Jen Nadol and THE MARK, check out http://jennadolbooks.com/index.html