Meet Some of My Super-Talented Writing Peeps!
So, before I left for my trip to DC, I mentioned that I was excited to get to meet some of my critique partners.
On our first full day in DC (Sunday, October 18th), Dwayne and I had dinner with John Ford (author of THE MORGUE AND ME), Gina Montefusco, and Jeff, Gina's racecar driver/economist/PHD student boyfriend. (I hope I got all that right!)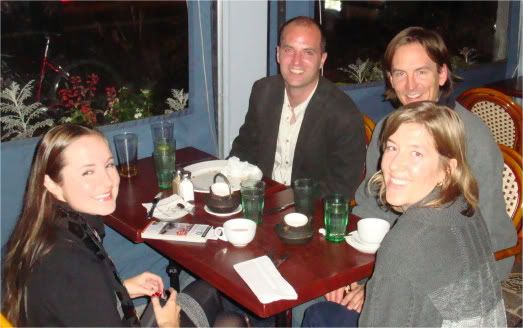 (Clockwise starting at 9 o'clock: me, John, Jeff, and Gina.)
On Friday, October 23rd, Dwayne and I caught a ride with Gina from DC to Baltimore. There, Dwayne stayed behind at the hotel to relax and swim while I went out for drinks and dinner with the writers I often refer to as "my girls." They are Michelle Andreani, Gina Montefusco (of course), and Kim Steffen.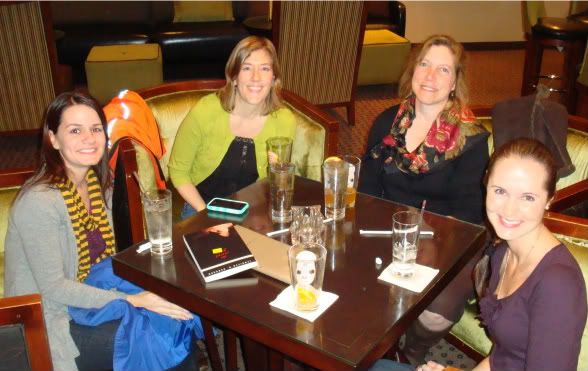 (From left to right: Michelle, Gina, Kim, and me.)
Getting to meet my writer friends in person after knowing them online and having exchanged critiques for two years was such a great experience! In a lot of ways, I felt like I already knew them, since we do end up sharing so much with each other. But spending time together and just getting to talk and laugh and see each other was awesome. I really do love getting to read all their work and I am so appreciative of all the support and helpful suggestions they've given me with mine.
We're talking about making plans meet up again--maybe in the form of a retreat--in the future. I can hardly wait!