Earlier this year, I wrote a concept for a book trailer for Live Through This that I was really excited to make.  But a day or two later, I decided to give up on the idea. I didn't have the money, the skills, or the models to make this project happen. My husband, Dwayne, didn't give up though. This summer, he talked to a girl who recommended the perfect Coley (my main character). Gradually, everything came together.  With the help of a couple of our friends, as well complete strangers who volunteered, we were able to put together a cast of twelve that includes Coley, her family, a few of her friends, members of her dance team, and Reece, her love interest.
This past Sunday, we all met up at Richmond beach for a six-hour photo shoot! Dwayne was the director, Shaina (Dwayne's band mate) did the photography, and my sister, Lindsey, helped me with getting the food and props together. For the shoot itself, I mostly watched from a distance, but I did give feedback for a couple of scenes.
The above is me, standing between "Reece" and "Coley" along with members of our local high school's flag and cheer teams, who were in scenes depicting part of my fictional dance team.
It was a really fun day for me and everyone involved seemed to have a great time too. They each got to find out just a little bit about the characters they were portraying. It was also so interesting to figure out who knew who in real life and from where.  I actually only had known the "mother" and "older brother" before that day, so it was really cool to get to meet everyone else!
There were a couple of surreal moments for me, mainly involving Anika (Coley) and Kyle (who, by the way, was named for Kyle Reese from Terminator  and was our Reece for the photos!). These two truly could not have been more perfectly cast. The characters in Live Through This have resided in my head (and in my manuscript) for close to three years. So, to see people who looked so much like them standing right in front of me? In real life? Being all three-dimensional? Well, it was a little overwhelming at times, but also one of the coolest things ever.
Here is a dorky moment that Shaina captured and sent to me (which makes Dwayne laugh hysterically every time he looks at it):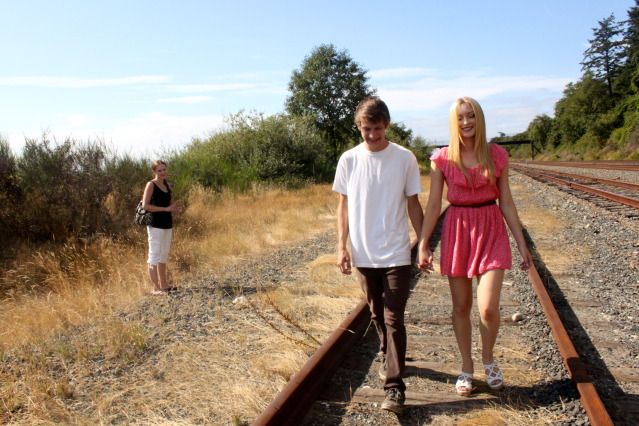 I'm not posing in the background there. I'm also definitely not supposed to be in the shot. Dwayne and Shaina had had me come down to make sure that my Coley and Reece scenes turned out exactly how I wanted because they knew it was super-important to me. It's hard to tell when the picture isn't zoomed, but I'm just frozen in that spot, smiling while trying not to cry from watching all the cuteness zomg! unfold.
Many thanks to Anika (especially Anika who was in every photo!), Bailey, Cali, Carter, Kelland, Kyle, Linda, Madeline, Marty, Sarah, Shaylee, and Taylor for volunteering your time and for being so darn photogenic. :-) And thank you also, to the parents, spouses, and siblings who came along. You are all so awesome!
Shaina is starting the editing now and I'll be able to share the finished video later next month. Let me tell you--I can hardly wait!