Most days during the week, I work in downtown Seattle. When I get back to the transit center where I park my car, I usually see this altered sign that never fails to make me smile: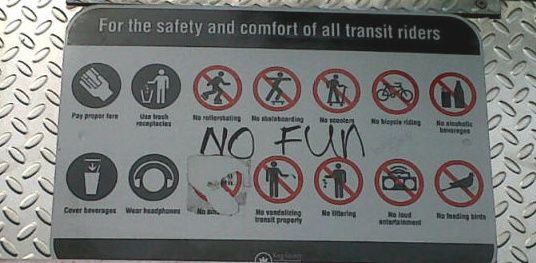 (It came out a little bit blurry, but the two columns on the left are the things that you should do:
Pay proper fare; Use trash receptacles; Cover beverages; Wear headphones.
The next five columns are the things you should not do:
No rollerskating; No skateboarding; No scooters; No bicycle riding; No alcoholic beverages; No smoking (that one has been covered up by some vandal); No vandalizing transit property; No littering; No loud music; No feeding birds.
And yeah, all of these items together does kind of equate to "NO FUN".)