My friend took me to the Seattle U2 concert at the beginning of June, and I totally forgot to post about it and show you the horrifically bad pictures I took with my phone! So, Lenny Kravitz opened the show. He is a very nice-looking man, from what I could see on the screen. :-)
I'm only a casual Lenny Kravitz fan, so I wasn't sure if I'd know many of his songs. As it turns out, during his hour, he played seven songs total (I think!) and I knew all but two.
U2 played for over two hours. (I think! And this is why I should have done this post three weeks ago.) It was my third time seeing U2 because it was the third time Matt bought me a ticket! I think U2 concerts are very feel-good events, so it was a pleasant evening.
Here's a really bad picture of the stage while U2 plays as well as the backlights of many, many phones. You'll have to take my word for it that that's what you're seeing: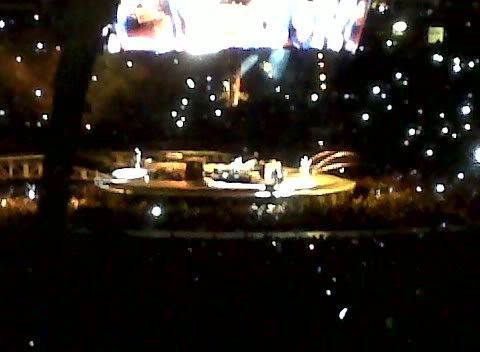 And finally, here's a picture that U2 took of Matt and me and some other people!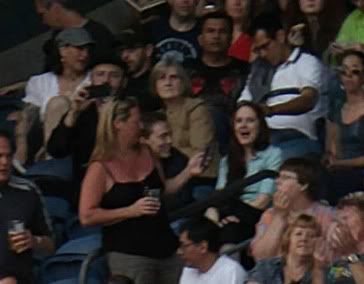 It kind of freaks me out that there exists pictures online of everyone who was in the stadium that night, but whatevs. Oh, and if you're wondering what I'm laughing about, I think this shot was taken after I'd turned toward Matt just in time to get an ASS TO THE FACE from the dude behind me. I said, "Did that really just happen?"
Matt sat, "He practically sat on your head."
I had the giggles for at least an hour afterward.