I have long, fine hair. It falls well beyond my waist these days. It's my own fault, of course, that my hair is so crazy-long, but I continue to not cut it because I don't know what I want it to be like. Living in Western Washington, I can curl and wear my hair down only occasionally because of the rain and wind, and as it happens, pulling my hair back in a ponytail isn't always the most flattering look.
A while back, I decided to make hair accessories be a thing in my life. I wore lots of hats in the fall/early winter, and lately two looks that I've become a huge fan of are The Messy Side Braid, and also Fake Flowers Stuck in My Hair. Sometimes, I combine these looks.
Recently, I trekked out to the mail in search of all new flowers for my hair and came home instead with two new headbands a.k.a Fascinators. They were cool and all (and I swear, a man gave up his seat on the bus for me because he was so enchanted), but not what I had set out to find.
And so! (spoiler: this is where the crafts come in!), I went to the craft store and bought several bunches of fake flowers, a few different hair fastener concepts, and a hot glue gun. This weekend, my sister and I spread everything out on table and combined those flowers, fasteners, and hot glue to create all this loveliness: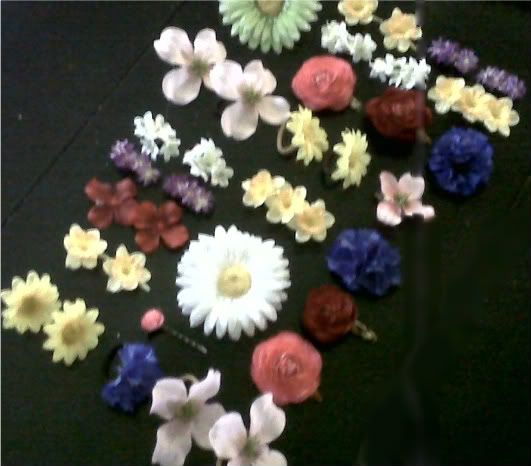 What we have here are flowers of different sizes and types on hair pins, clips in various sizes and styles, and elastics. Three hours of tedious work gave us both lots of new flowery hair accessories to wear this summer. Hooray!
(Did I mention that I'm not really, totally the crafty sort? If the mall hadn't let me down with their non-having-of-awesome-flowery-hair-decorations, I would have wanted to take this project on. Thanks a lot, The Mall! But, why complain? Because these are all totally custom and as long as they don't fall apart the first time we wear them, they are going to be GREAT!)
Oh, and I almost forgot. Here are a few pics of Lindsey, Ella, and me modeling some of our favorite pieces from our exclusive collection: