I cook quite regularly, but I don't generally share recipes because I just use the ones I find online or in my cookbooks. However, today, I invented one! I think it turned out pretty good. Maybe you will, too. If you're into that sort of thing. FYI: It's guaranteed to look more appetizing and photographable if you use any color OTHER than a yellow pepper topped with yellow corn chips. Live and learn, eh?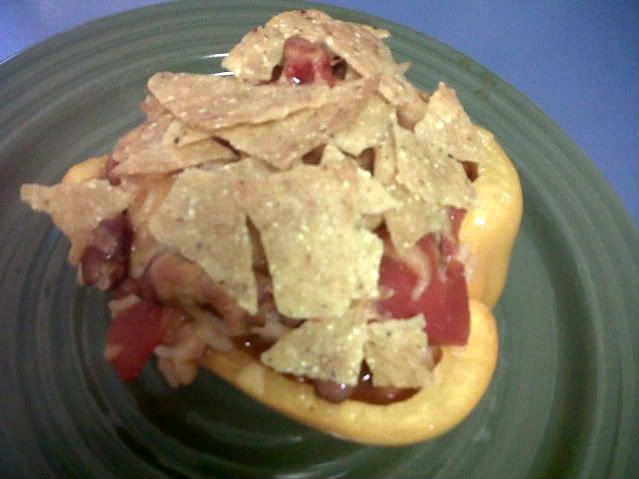 Vegetarian Mexican-Style Stuffed Bell Peppers
(so-called because of the I spices used, which are not Italian-style like most stuffed peppers that I make)
Heat oven to 400 degrees
You will need:
3 or 4 medium bell peppers, cut in half lengthwise, seeded and all that jazz, arranged in a baking dish
Filling:
1 1/2 cups of cooked rice. (I used white, but brown is better for your health and all)
1 15 oz. can of diced tomatoes, undrained
1 15 oz. can of black or pinto beans, drained and rinsed
1 8 oz can of corn, undrained
1 teaspoon cumin, or to taste
1/2 teaspoon chili powder, or to taste
1/4 teaspoon cayenne pepper, or to taste
1/4 teaspoon garlic powder, or to taste
1 or 2 chopped green onions (optional)
1 tablespoon chopped cilantro, or to taste (optional)
Optional toppings:
shredded cheese (I used sharp cheddar)
broken tortilla chips
(Toppings can be added before or partway into baking. I added them before, since my cook time is so short)
Directions:
Mix all the filling ingredients in a bowl.
At this point, I heated the filling in the microwave because I like my bell pepper still crisp when it comes out of the oven. In order for my filling to get warm enough, I have to heat it before baking. If you like your peppers soft, you can cook it longer in the oven and you probably won't need to heat the filling first.
Spoon the filling into the bell pepper halves. Add the toppings or set the timer for partway through baking so that you can add them later.

Bake in 400 degree oven for 15-40 minutes. (I always do 15 minutes.)
And that's the stuff!