1. I've been reading some awesomeTenner books in the last couple of weeks! The first is Tara Kelly's HARMONIC FEEDBACK, which is already out in stores and online. "When Drea and her mother move in with her grandmother in Bellingham, Washington, the sixteen-year-old finds that she can have real friends, in spite of her Asperger's, and that even when you love someone it does not make life perfect." .
2. I also read Karen Kincy's OTHER which also takes place in Washington State. It comes out July 1st and is currently available for preorder. "Seventeen-year-old Gwen hides a dangerous secret: she's Other. Half-pooka, to be exact, thanks to the father she never met. Most Americans don't exactly roll out the welcome mat for Others, especially not the small-town folks of Klikamuks, Washington. When a pack of werewolves chooses the national forest behind Gwen's home as their new territory, the tensions in Klikamuks escalate–into murder."
3. The third book I read was Shaun David Hutchinson's THE DEATHDAY LETTER, which was released this week. "After receiving the letter that says he will be dead within twenty-four hours, fifteen-year-old Ollie and his two best friends, Shane and would-be girlfriend Ronnie, set out to fulfill as many of Ollie's hopes as they can."
4. Also,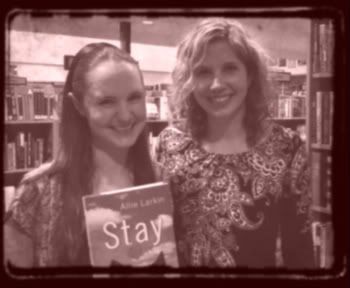 Allie Larkin answered my Magic 8 questions here last week. This week, she was in the Seattle area for a signing at Third Place Books. My sister and I made it down for the reading and spoke with Allie afterward. When we tried to take a picture, I discovered that the batteries in my camera were dead! My sister took this one of Allie and me using Allie's phone. I added the "Old Photo" effect just, you know, for fun.
5. My Seattle book launch party for FREEFALL is now arranged with Third Place Books! It will be Sunday, October 17th at 5:30pm. That's still four months away, but I just wanted to put it out there to make sure people will be able to plan for it if you want to come. I'm very, very excited!