Normal 0
Kristina McBride is the author of THE TENSION OF OPPOSITES, a YA novel released by Egmont USA on May 25, 2010.
It's been two years since Noelle disappeared. Two years since her bike was discovered, sprawled on a sidewalk. Two years of silence, of worry, of fear.
For those two long years, her best friend Tessa has waited, living her own life in a state of suspended animation. Because how can she allow herself to enjoy a normal high school life if Noelle can't? How dare she have other friends, go to dances, date boys, without knowing what happened to the girl she thought she would share everything with?
And then one day, someone calls Noelle's house. She's alive.
A haunting psychological thriller taken straight from the headlines, The Tension of Opposites is a striking debut that explores the emotional aftermath of a kidnapping on the victim, and on the people she left behind.
THE MAGIC 8
1. At age eight, what did you want to be when you grew up? And at age eighteen? And while you're at it, what about at age twenty-eight?
8: A librarian, hair stylist, teacher, or author.
18: Author
28: I was already a high school English teacher and yearbook advisor, but still had dreams of being a published author.
2. Which Breakfast-Club-style label would have best fit your teenage self?
I was a social butterfly. I had a group of very close girlfriends who I spent most of my time with. My nickname in high school was "The Clipboard" because I always formed our plans and tried to keep everyone on task. When I interviewed for my teaching position, my nickname helped me land my job. They were looking for an extremely organized person to take over the production of the high school yearbook. With my obsessive-compulsive tendencies, I fit the bill perfectly!

3. What are some of your superstitions and/or phobias?
For most of my life, I have feared being kidnapped. Fancy that I ended up landing my dream agent and selling my first novel this theme, huh?
4. Without giving away too much from your book, which character or scene are you the most pleased about having created, and why?
This is so difficult! There are several scenes where Tessa, my main character, is out in the woods taking pictures. I love being outdoors, hiking through nearby Sugarcreek Nature Reserve, so I wrote several scenes in this location. I also love the scenes in the neighborhood park where Noelle (who returns insisting she be called Elle) was kidnapped.

5. Was there any certain music that inspired you while you were writing this book, or is there a song that could serve as your protagonist's theme song?

Don't Follow by Alice and Chains is a beautiful song that portrays the character of Elle, who returns after a two-year abduction.
6. What's up next for you as a writer?
I'm currently working on my second novel in my two-book deal with Egmont USA. That's about all I can say for now.
7. And, now, the most important question of all: Beatles or Elvis? Please support your answer. ;-)
Definitely Beatles! I have many memories of singing and dancing to their songs with some of my best friends in high school. There's nothing better than being goofy with your friends on a lazy summer evening!
8. Okay, your turn. Do you have a question you'd like me to ask my Magic 8-Ball on your behalf? (I'm telling you, this thing is scarily accurate! Well, except for when it's lying.)

Will I ever enjoy a Dave Matthews Band concert from the first ten rows? (Please, oh, please say yes!)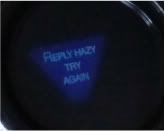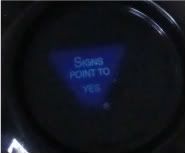 Thanks so much, Kristina!

To learn more about Kristina McBride and THE TENSION OF OPPOSITES, visit her online at www.kristinamcbride.com/