A few years ago, while working diligently on a manuscript I was calling THE FAKE MCCOY (yes, it's the one that Pulse will turn into a book next year!), I got a cold. After that cold was gone, my cough lingered on. And on. And on.
My husband was annoyed at having to hear it all the time. My coworkers were annoyed. Even my cats were annoyed. One of them would do this weird growl thing at me when I'd cough, even while she was sleeping. The cats would also give me really annoyed expressions like this: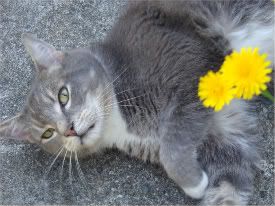 And then they'd be like, "Oh my ears!"
I didn't know what to do about it. I knew I wasn't sick. I just had a cough that wouldn't end! There's nothing all that serious about that, right?
To amuse myself and to annoy my husband even further, I wrote a chronic cough into the story I was working on. One of the minor characters, Taku Endo, had a cough that annoyed his band mates to no end. They would get on him to go to the doctor, but he wouldn't because he knew there was nothing wrong with him. (When my husband read through those scenes for me, he'd say, "Gah! Shut the [KOMO 4] up, Taku!" every time Taku coughed.)
Finally, after four months of this cough occuring on in my life, I was finally convinced to see the doctor. He said what was going on was bronchospasms. His theory was that since my cold had made me cough a lot, my airways had become irritated. Since the airways were irritated, an involuntary spasm was making me cough more. It was a never-ending cycle. He prescribed me with this stuff to relax the airways which would keep me from coughing which would allow them to heal which would keep me from coughing: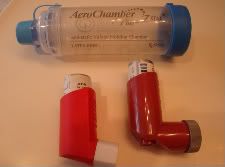 It worked!
At that point, I thought it necessary to change my story so that Taku now had a diagnosis: bronchospasms. He still had a persistent cough, but that was because he didn't always use his inhalers. (Unlike me, who made sure to use them regularly.)
Now, almost two years later, I'm having issues again. My inhalers were all gone and my prescriptions had run out. I contacted the doctor, explaining that it was the same old thing and could he pretty please refill my prescriptions? He did so, but requested that I come in for pulmonary testing to determine if I have asthma.
I did the test today, and the results should be in by Monday. I don't know what it's going to mean for me if I do have asthma, if anything will actually change in my life. I'm not overly concerned right now.
But if I get a new diagnosis, what's going to happen to Taku in all of this? There's a line in the manuscript where he says, Normal 0
MicrosoftInternetExplorer4
/* Style Definitions */ table.MsoNormalTable {mso-style-name:"Table Normal"; mso-tstyle-rowband-size:0; mso-tstyle-colband-size:0; mso-style-noshow:yes; mso-style-parent:""; mso-padding-alt:0in 5.4pt 0in 5.4pt; mso-para-margin:0in; mso-para-margin-bottom:.0001pt; mso-pagination:widow-orphan; font-size:10.0pt; font-family:"Times New Roman";}
"For the millionth time. I don't have asthma. I have bronchospasms."
Is it going to turn out that he's in serious denial? Or will I have to change that part of the story again? ;-)
(Since I haven't started revisions yet, I don't actually know if Taku's cough is even going to exist in the final version. It's a small thing and unimportant overall. I hope it can stay, though. I really kind of love re-reading those parts. It's like an inside joke with myself.)