For as long as I've known that surprise parties existed, I've wanted one. I just really love the idea of a whole bunch of people caring about me and wanting to make elaborate secret plans on my behalf. I could never understand Mary Anne from THE BABYSITTERS CLUB getting all mad about her party. I mean, yeah, she was shy and stuff. But still, it was such a nice gesture, right?
I've make jokes about wanting a surprise party many times over the years. Like, if I come into a room and family members are being all whisper-y to each other, I'll be like, "What's up? Are you planning a surprise party for me or something?" (It's a really fun question to ask, by the way. People usually roll their eyes.)
In fourth grade--when I turned nine--I was so sure there was going to be a surprise party on or around my birthday. Every time I'd walk into a room, I'd think to myself: Okay. Don't forget to look surprised even though you know what's coming.
As it turned out, I didn't get a surprise birthday party that year. Or any other year. I've helped plan a few, and that was fun. But I always hoped someone would do it for me one day.
Last month, someone did! My sister and my husband! But it wasn't for my birthday.
Five days after I accepted my book deal from Pulse, I was spending the afternoon with my friend, Matt. He drove me to a pizza place to have lunch, and led me back to a banquet room upon our arrival. Around that time, I was thinking there was something odd going on, I admit, but I did not expect to walk in and see over 40 of my friends and relatives, all assembled together, yelling "surprise!" and applauding.
"This Is My Now" by Jordin Sparks--which has been kind of my theme song these days--was playing on the stereo system. There were balloons and streamers and signs that said, "Congrats!" The whole works.
I stood there while the song played, looking around all teary-eyed. It was just like, "Whoa!" as I was registering what was happening.
Getting a surprise party really was just as cool as I'd always hoped it would be! In fact, I'm going to use it as an affirmation for when I'm having tough days: I am a wonder hyphen full woman. I am kind and empathetic. I am the type of person for whom people throw surprise parties. Woot!
My aunt mailed me some photos from the event, which is why there's been delay in putting this post up. See, I didn't have my camera that day because I didn't know there was going to be something important going on! I used the scanner at work, but they didn't turn out great, so I'll only post two. You'll have to take my word for it that people showed up, okay?
My sister made the cupcakes, and my mother-in-law made the cake. The title of my book is changing (new title unknown right now!), but that's okay. This was the name on that day.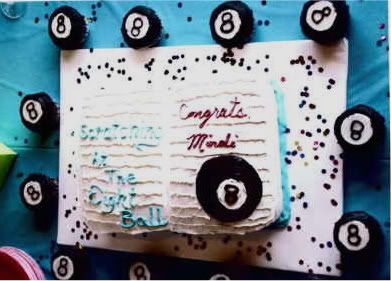 And this is a shot of my cousin Larry and me: